At the end of last year, Instagram announced the ability to follow hashtags. This feature works just like following individual accounts but enables users to follow a favourite brand, topic or hobby instead. What a fantastic way to stalk our favourite celebs, without doing anything at all.
So say you love doughnuts (given), you can follow all posts containing the hashtag #doughnuts and all those delicious & fluffy doughballs will appear directly in your hashtag feed and then in your mouth – that's how it works right?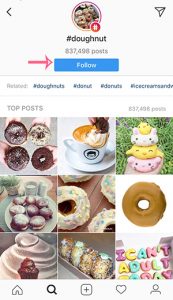 Using and creating branded hashtags
Using hashtags on Instagram posts has always been an easy way to effectively throw the net wider and attract a new audience. Just like nuts atop a chocolate ice cream sundae, make sure the balance is right otherwise those tags feel spammy and a little nutty. With this latest development it's now more important than ever to have a unique branded hashtag or two to represent a brand and give it feed cred while also ensuring consumers can easily follow updates and learn more, without having to do more. A good place to start is to include a business name but add a bit of pizzaz, something that makes it feel like a sugar covered #doughnut. Or a dozen, who's counting.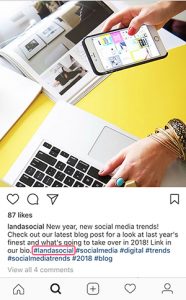 At L&A we use #landasocial or when we're feeling a bit nutty #L&Awesome. But it's also pretty cool to use a slogan (if your slogan stands on its own) if you're unsure, #justdoit. Test a few and see what sticks.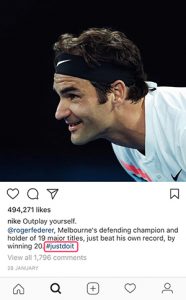 What branded hashtags means for business
This upgrade presents a fantastic opportunity for businesses to create another marketing channel to spread the word far and wide about the brand offering. Regularly using branded tags can unearth brand advocates and group like-minded doughnut lovers together, enticing more discussion. Including an owned tag not only builds familiarity but will ensure anyone who has opted into following the hashtag won't miss a thing (lurkers, we see you).
Events and key occasions
Generally, aim for longevity. Disregard, however, if the hashtag is related to a specific event with enough traction to have a hashtag of its own. For example, when you turn 70 years old. Fans that followed #ferrari70aus celebrated the Ferrari legacy with other Ferrari connoisseurs without getting off the couch. And they definitely avoided traffic.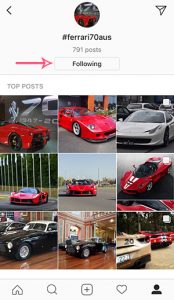 So remember to research and select your branded hashtags with longevity or extreme relevancy and your strategic goals in mind. Share the love, and if you can, share doughnuts.
To find out more about these and other strategies email us! Or send us doughnuts. By now, you should know how much we like doughnuts.